Central California Migrant/Seasonal Head Start provides childcare to over 800 babies, toddlers and preschoolers at 90 family childcare homes, while their parents work in the strawberry and raspberry fields in Watsonville.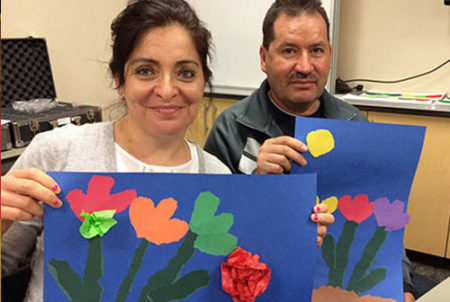 Providers plan monthly study topics to add variety and a focus to their daily activities with young migrant children. Typically they rely on books, puzzles, & flannel boards to illustrate their study topic. This year we're hoping to add creative, open-ended art projects to reinforce the concepts they are learning and to stimulate children's vocabulary.
The popular children's books, "Planting a Rainbow" and "The Very Hungry Caterpillar" by Lois Ehlert were read and displayed to inspire teachers to create colorful, 3 dimensional art that reflect the theme of gardens.
Central California Migrant/Seasonal Head Start is recruiting volunteers to help children practice speaking and understanding English. If you are interested in volunteering, please contact Maria Castro.