Our Equity Value at the Santa Cruz COE is the center of our work – We create or improve programs, practices, and policies to ensure that every learner has opportunities, experiences, and support systems that address their educational goals and needs. The programs and/or projects below exemplify our work. 
Affinity Action Groups
The Santa Cruz County Office of Education's Race & Equity Affinity Action Group is a space for teachers of color and white allies to connect, reflect, share and learn from each other on their journey of becoming antiracist educators. This group provides ongoing support and leadership for ethnically diverse educators and is open to all teachers, veteran and new. Our goals are to: 
Increase equity for all students

Develop a community of practice based on culturally responsive and antiracist pedagogy.

Promote and sustain the leadership of teachers of color.
For more information, please contact Marvilyn Quiroz and view our flier.
Ethnic Studies
The Santa Cruz COE  partnered with a team of Ethnic Studies experts to deliver multiple learning and support opportunities for educators in Santa Cruz County during the 2021-2022 school year, and this work will continue in 22-23. This work is headed by Dr. Allyson Tintiangco-Cubales, Professor of Ethnic Studies at SFSU. To learn more about Dr. Tintiangco-Cubales  you can view this video exemplifying her work. Also, visit this website to learn more about  her Wellness work, in collaboration with Dr. Jeff Duncan-Andrade and Glenda Goce Macatangay, MSW. For the 22-23 school year, we will be offering an Ethnic Studies Teacher of Color Circle: Community of Practice for all teachers across the Santa Cruz County. We will also offer a  (North County) Ethnic Studies COP (Pajaro Valley Unified School District (PVUSD) will have their own COP, but PV teachers new to Ethnic Studies are welcome to enroll in this COP).
For more information, please contact Debi Bodenheimer
Grading for Equity
S5C Grading for Equity Initiative
The Santa Cruz County College and Career Collaborative works to support the capacity of educators and administrators to develop and implement grading strategies that systemically improve teaching and learning. Through this work, S5C provides leadership and resources to align grading to quality teaching and learning. The goal of the grading initiative is to support schools and districts to create action plans with their own outcomes to make changes in grading practices to ensure equitable outcomes for students. 
Participating schools include:
Soquel High School
Santa Cruz High School Cohort 
San Lorenzo Middle School 
PVUSD Ethnic Studies 
Branciforte Middle School 
Aptos High School
Shoreline Middle School
Mission Hill team 
New Brighton Middle School
Aptos Jr. High School
For more information contact Cristine Chopra, Executive Director, Santa Cruz County College and Career Collaborative 
Equity Professional Development and Support for Districts
We COE offers thought partnership around ways to raise awareness of staff, administrators, and or teachers to deepen our collective understanding of how racism manifests in schools and our agency in dissolving oppressive structures.
We COE think with districts around how to facilitate each learning session, reflecting together and tailoring the learning based on the vision and initiatives of the district.
To grow as antiracists we: 
Continue to build our awareness and understanding of what it means to be an antiracist leader.

 Build our understanding of how oppression manifests in our schools and where we have agency to foster educational equity

Reflect on how we were socialized in school around what it means to be a student and how that has shaped our expectations of those we collaborate with in the school system

Envision a plan of action that furthers our development as antiracist educators/leaders
To strengthen our Culturally Responsive Leadership we:
Reflect on Zaretta Hammond's Ready for Rigor Framework and begin to make connections to our district's equity initiatives and/or our own personal equity journey

Build our awareness around knowing and owning our cultural lens

Consider our cultural reference points and how they have informed our values around teaching and learning

Build the part of our Awareness that understands the principles of neuroscience and culturally responsive brain rules in order to deepen our relationships with teachers, students, and/or families

Grow our understanding of how oppression manifests in our schools and where we have agency to foster educational equity

Strengthen our understanding of the concept of a Warm Demander and brainstorm next steps
For more information contact Melissa Roberts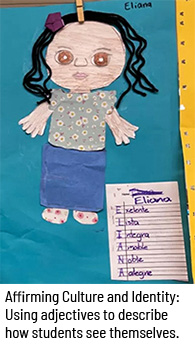 EL RISE is a statewide collaboration to build the capacity of educators to enact the principles of California's English Learner Roadmap. The EL Roadmap envisions an educational system where English learners fully and meaningfully access and participate in a twenty-first century education from early childhood through grade twelve that results in their attaining high levels of English proficiency, mastery of grade level standards, and opportunities to develop proficiency in multiple languages. Santa Cruz COE is a partner county, working with Californians Together, Sobrato Early Academic Language (SEAL) and Loyola Marymount University's Center for Equity English Learners (CEEL) to deliver professional learning opportunities that centralize the needs English learners by providing assets-based and needs-responsive programs that are culturally and linguistically sustaining. EL RISE supports educators to meet English learners' civil right to equitable access to comprehensive education by providing them high quality Integrated and Designated ELD in all content areas and at all levels. EL RISE professional learning consists of sessions delivered virtually by statewide experts after school hours at no-cost to participants, as well as  local communities of practice to support implementation. Local communities of practice are context- specific and include dual language teachers, elementary teachers, as well as secondary teachers, and are facilitated by the Santa Cruz COE's Multilingual Achievement Coordinator, Sofia Sorensen. A catalog of offerings can be perused here and on the COE Curriculum and Instruction Professional Learning Plan site. 
For more information please contact: Sofia Sorensen