Learning through the arts (music, theater, dance and visual art) is one of the most efficient ways in which to foster critical thinking, creativity, collaboration and problem-solving; all skills which are fundamental to 21st century education. Research supports the argument for the arts in schools as an integral part of a student's education rather than dubbing the arts a frill or leisure activity. In order to be truly effective, the arts should be based on sound pedagogy and the California Visual and Performing Art (VAPA) standards.
In Santa Cruz County schools, we have three levels of arts education, with three differing sets of needs. The arts coordinator is responsible for creating and over-seeing projects that will not only help develop individual arts programs, but will also help weave the programs together in order to create a sense of consistency and equity in what is offered to students throughout the county.
Level One – Elementary/Middle School Arts Integration
For generalist teachers with little or no experience in the arts, the COE holds an annual Summer Arts Institute which allows the teacher to have an arts-immersion experience while beginning to explore ways in which to integrate arts experiences for their students into the daily curriculum. The week-long Arts Institute is followed by three follow-up days throughout the year and ongoing individual coaching by the arts coordinator.
Level Two – Artists in Schools Programs
The COE collaborates with several arts agencies and has close ties with the Cultural Council's SPECTRA program. Working together, these two agencies bring quality arts instruction to elementary students and professional development opportunities to SPECTRA artists. The COE also collaborates with the Museum of Art and History to help bring the museum experience into elementary schools and provide a venue for High School projects. The COE has begun an annual Kindergarten visual art program for under-served schools which culminates in an art show at the COE.
Level Three – Secondary Arts Education
As a result of the 2011 professional development series based on peer instruction, the COE has set up an e-Arts Community for arts specialists so that the work and community building can continue. Working with the school districts, the COE hopes to develop and extend this form of professional development for arts teachers where they can share lessons, resources and opportunities to have hands-on art experiences.
Mañanaland: a book talk with author Pam Muñoz Ryan
100 parents and children gathered at Sequoia High school, on Sunday, November 7, 2021, to watch Pam Muñoz Ryan, via Zoom on a large screen, talk about her ideas and development of her book Mañanaland. Afterward, two Teaching Artists led the kids in an art project that related to the book and they all received a free copy of Mañanaland. We thank our collaborative partners, Bookshop Santa Cruz, Pajaro Valley Unified School District, and the Arts Council of Santa Cruz County for making this a memorable event for our children and community.
You can view the entire Mañanaland presentation and Q & A session on our Youtube channel.
arts education video gallery
We have two amazing poetry opportunities for students this year. We have POETRY OUT LOUD, where students participate in a classroom, school, or poetry club …
Highlights quoted from EdSource: On Nov. 8, Californians overwhelmingly passed Proposition 28, which will bring a windfall of arts education funding to California schools. In …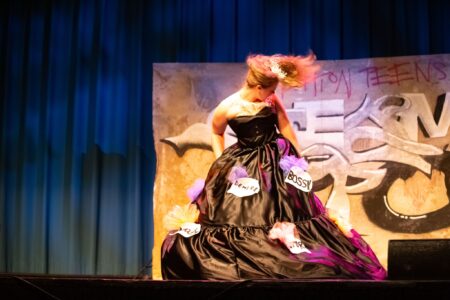 Tarps, tomato cages, plastic bags, newspaper, old books… You may be wondering what they have in common. They were all destined for the dump. Our …